Send Inquiry
Vadik Havan Samagri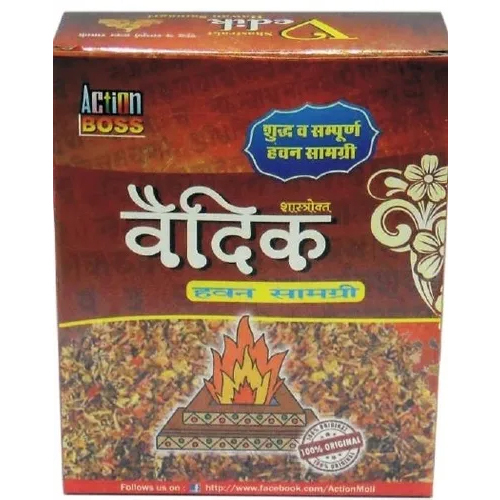 Vadik Havan Samagri
Product Code : Art No-6022
Brand Name : Action
Price And Quantity
Minimum Order Quantity
1 Pack
Price
70 INR/Piece
Product Specifications
Feature
Light Weight
Style
Religious
Regional Style
Indian
Product Type
Samagri
Size
50Grm, 100Grm,200Grm.500Grm,1KG Pack Box
Vadik Havan Samagri is a carefully crafted blend of various natural ingredients used in Hindu rituals and havan ceremonies. It typically includes a combination of sacred herbs, roots, aromatic resins, dried flowers, and other botanical materials. These ingredients are sourced, dried, and blended in a specific proportion to create a sacred mixture that is used as an offering during the havan or yagna. Vadik Havan Samagri is considered an integral part of the ritual and is believed to invoke divine blessings, purify the environment, and create a spiritually uplifting atmosphere.
FAQs :
Q: What are the ingredients in Vadik Havan Samagri?
A: The ingredients in Vadik Havan Samagri can vary based on regional and cultural preferences. However, it commonly includes ingredients such as dried herbs like guggul, frankincense, sandalwood powder, dried flowers like rose petals, sacred grass (darbha), camphor, cardamom, cloves, dried fruits, and other aromatic substances. The exact composition may vary depending on the specific traditions and rituals followed.
Q: How is Vadik Havan Samagri used?
A: Vadik Havan Samagri is used during havan or yagna ceremonies. It is placed in the sacred fire or agni as an offering while reciting mantras and performing rituals. The fragrance released by the burning samagri is believed to purify the atmosphere, ward off negative energies, and create a spiritually uplifting environment. The ash from the burned samagri is considered sacred and is often collected and used for various purposes.
Q: Can Vadik Havan Samagri be used for personal prayers at home?
A: Yes, Vadik Havan Samagri can be used for personal prayers and rituals at home. It is commonly used during special occasions, festivals, or individual prayers to create a sacred atmosphere and invoke divine blessings. The samagri can be offered in a small fireproof container or in a traditional havan kund (sacred fire pit) while following the appropriate rituals and reciting prayers.
Q: Is Vadik Havan Samagri safe to use?
A: Vadik Havan Samagri is generally safe to use when used as intended during havan rituals. However, it is important to handle it with care and follow safety guidelines. When lighting the samagri, ensure proper ventilation, and keep it away from flammable materials. It is also advisable to use a designated fireproof container or havan kund for the ritual.
Q: Where can I get Vadik Havan Samagri?
A: Vadik Havan Samagri is available in many religious and spiritual stores, both offline and online. You can also find it in shops that specialize in puja items or havan essentials. Ensure that you purchase from trusted sources that offer authentic and high-quality samagri.
Trade Information
Payment Terms
Telegraphic Transfer (T/T), Cash in Advance (CID), Cheque, Cash Advance (CA)
Supply Ability
500-1000 Pack Per Day
Delivery Time
4-7 Days
Main Export Market(s)
Western Europe, Middle East, Central America, South America, Asia, Eastern Europe, North America, Australia, Africa
Main Domestic Market
All India
"We are mainly dealing only bulk orders."